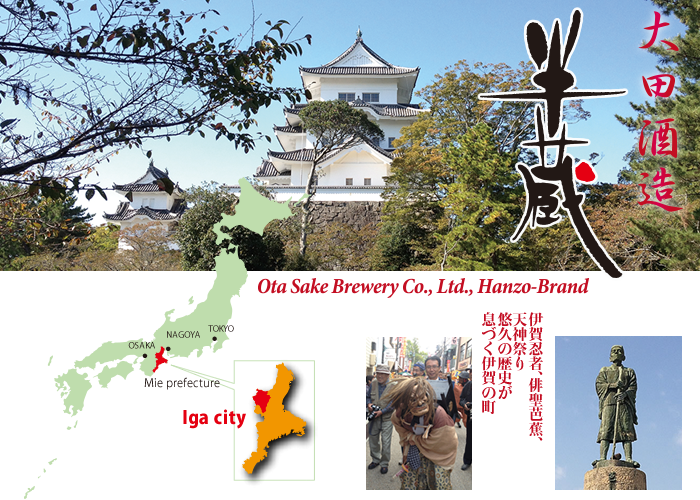 創業1892年(明治25年)。伊賀盆地のほぼ中央、
周囲は白鷺が飛び交う豊かな田園に囲まれ、蔵近くでは酒造りに使用する米が作られています。
原料米は地域性を活かして三重県産、主に伊賀産を使用し、手作業を心がけ「半蔵」を醸しています。
Founded 1892 (Meiji 25) in the center of the rural Iga basin, where white cranes are often seen flying high in the sky.
Our rice is locally produced in the fields surrounding our brewery.
The rice we use is grown with special techniques developed in the Iga area of Mie Prefecture.
All products under the Hanzo Brand are carefully hand-made.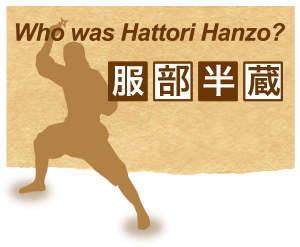 服部家は、先祖代々、伊賀忍者の頭領を務めたと伝えられています。
服部正成(通称半蔵)は、足利家・松平家・家康家に仕官した父保長の息子として、1542年に生まれました。父の死後、半蔵は家康に仕え、伊賀同心の支配役として、故郷の伊賀忍者や甲賀忍者を動かして、数々の戦功を立てました。
江戸城(現在の皇居)にある半蔵門は、彼の名に由来すると言われています。
It's said the Hattori family worked for Iga Ninja for many generations.
Masashige Hattori, later known to all as "Hanzo", was born 1542.
His father, Yasunaga, served under Lords Ashikaga, Matsudaira and Tokugawa.
After his father's death, Hanzo served Tokugawa Ieyasu,ruler of Japan as the leader of the Iga samurai.
It is said that he also controlled the Iga Ninja and Koga Ninja, and was frequently rewarded by the lord for his valuable services.
The "Hanzo Gate" in Edo Castle, presently the Emperor's Palace, was named after him.
Company Profile 大田酒造概要
■名称:株式会社大田酒造
Name: Ota Sake Brewery Co., Ltd.
■所在地:〒518-0121 三重県伊賀市上之庄1365-1
Address: Kaminosho 1365-1,Iga-City,Mie 518-0121, Japan
■電話:0595-21-4709
TEL: +81-5-9521-4709 (Japanese language only)
■FAX: +81-5-9521-9686
■URL: http://www.hanzo-sake.com
■Facebook: https://www.facebook.com/hanzosake